Welcome new QBioS Doctoral students for fall 2022!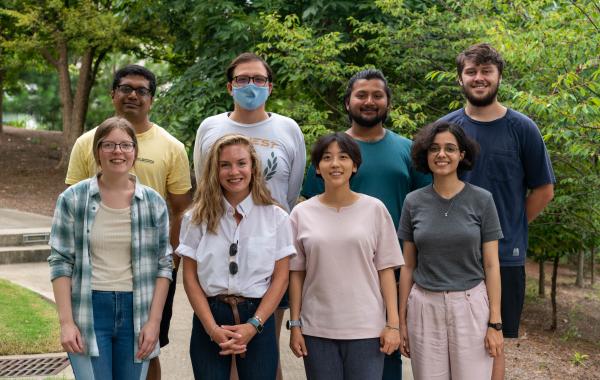 The interdisciplinary graduate program in Quantitative Biosciences at Georgia Tech is pleased to welcome eight new students to our program.  Our newest cohort began the program in August 2022.

Akash Arani graduated from Emory University with a double major in Physics (B.S) and Mathematics (B.A) in 2021. After graduation, Akash worked as a Research Specialist at Emory University, where he worked on questions in theoretical population genetics and evolutionary biology. He also worked as a Research Attachment at the Agency for Science and Technology (A*STAR) in Singapore, where he primarily used data science methods to research cancer survival outcomes. Akash is fascinated by quantitative applications in biology, where he can leverage his computational and mathematical background to pursue his true passion in understanding evolution and ecology. "I chose the QBioS program as it was the perfect program for someone from a non-biological academic background to learn how to apply their skillsets to biology and simultaneously become a more holistic biological scientist as well."

Alfie Brownless got her bachelor's degree in biology and mathematics from Wofford College in South Carolina. After pursuing a concentration in applied mathematics, she became interested in modelling biological systems and analyzing the implications of these models on general biological understanding. During the beginning of her undergraduate career, she was able to secure an internship which initiated her interest in research more broadly and continued to do interdisciplinary research throughout the rest of her undergraduate career. "I was excited to join the QBioS program in order to be able to more effectively synthesize mathematical and biological concepts and continue to develop skills crucial to conducting this type of interdisciplinary research while working with others who are equally excited about these concepts."

Raymond Copeland graduated from Georgia Tech in 2022 with a bachelor's degree in Physics. During his undergraduate studies, he developed an interest in applying physics to create models to understand biological phenomena. He worked in Dr. Yunker's lab using computer simulations to study the effect of environmental constraints on microbial competition and stayed at Georgia Tech to continue developing via an interdisciplinary program. "I chose physics because I enjoyed how questions were answered, and I chose QBioS because it takes those skills and applies them to a field of questions I want to contribute to answering."

Sayantan Datta graduated from the Indian Institute of Science Education and Research – Pune (IISER-Pune), India with a dual degree of BS-MS majoring in Biology. During his studies, he was part of the iGEM competition and did a two-year research project in bacterial experimental evolution. The first one gave him valuable experience with molecular biology techniques; but also opened his eyes to the power of computational and quantitative studies in biology. The latter was when he discovered his passion and interest in studying evolution. He is interested in researching how evolutionary processes act on the life history traits on nascent evolving multicellular organisms and implement both experimental and simulation studies to unveil the mysteries of multicellularity evolution. "I believe the QBioS program is essential for me to develop my skillset in doing computational biology studies alongside improving my knowledge and skills in empirical studies. QBioS provides the perfect improvement for my all-around growth as a biologist and a researcher." 

Hayley Hassler earned a Bachelor of Science followed by a Master of Science in Microbiology from Clemson University under the direction of Vincent P. Richards. Following completion of her master's degree, Hassler has worked as a research associate at Yale University in the lab of Jeffrey P. Townsend. There she has addressed critical questions concerning the durability of immunity against SARS-CoV-2. Regarding her decision to pursue her PhD in the QBioS program, Hassler states, "I was driven to find a graduate program that would accommodate the complexity of my multidisciplinary research ambitions and provide rigorous training to develop the technical skills that have become crucial to successful data-driven research in both academia and industry. I was lucky enough to find these qualities in the QBioS program at Georgia Tech and beyond that— a community of likeminded and diverse peers to share this experience with."

Maryam Hejri Bidgoli graduated with a Bachelor of Science in Physics in 2021 from Amirkabir University of Technology, Tehran, Iran. During her undergraduate studies, she was inspired by how applying physics fundamentals to biological systems can elevate our understanding of these complex systems and result in impactful outcomes.  She decided to do her bachelor's thesis project on a topic entitled "Topological effects and Statistical Physics of Copolymers."  She also completed a research project in the department of Mathematics and Computer Science at Amirkabir University of Technology titled, "Mathematical modeling of epidemics: Covid-19." In this work, she expanded her knowledge in studying biological systems and built new skillsets in programing and data analysis. Maryam says, "As an undergrad who was interested in multidisciplinary fields and wants to explore more of it, I found the QBioS program a perfect combination between the research and program curriculum for my interests. I liked the large freedom of course choices, and lab rotations offer us a transition to become prepared Ph.D. students. The diverse QBioS family cohort also serves as the source of inspiration and innovation where we can always exchange ideas with teammates from various backgrounds and learn from professional advisors."

Jiyeon Maeng earned her bachelor's and master's degree in Mechanical Engineering from the Ulsan National Institute of Science and Technology, South Korea. She enjoyed studying control theories during her undergraduate education, so she searched for opportunities to use and develop her control background. Along the way, she worked at Korea Aerospace Research Institute for satellite attitude control and the soft sensor start-up for control using wearable sensors. Jiyeon finally discovered her interest while researching locomotion control during master's training in Bio-inspired Robotics and Control lab. Her master's thesis was about the analysis of E. coli's flagellum rotation using geometric mechanic tools. Jiyeon says, "As I studied complex but imperfect theories that model the interaction between locomoting body and its surroundings, I realized the importance of elaborate experiments and models that can reflect the experimental data. I chose QBioS because the program would allow me hands-on experiences in quantitative modeling and collaboration with locomotion researchers from various fields."

Elisa Rheaume graduated from California State University, Long Beach in 2021 with a B.S. in Physics and a B.A. in Japanese. During her undergraduate journey, through several mathematical analytics courses she discovered the power of computational tools for solving systems with many bodies. In pursuit of furthering her knowledge in both computer science and physics, after graduation she underwent a year-long internship at Lawrence Berkeley National Laboratory working with their Accelerator Modeling Program. Elisa chose to apply to GT's QBioS program because it served as a multidisciplinary program, allowing her to combine her physics and computational background to biological problems. "The QBioS program is a phenomenal example of a modern program that allows students to reach beyond the traditional confinements of their individual fields and explore biological topics from new perspectives." Elisa self-identifies as a computational biophysicist and no one can convince her otherwise.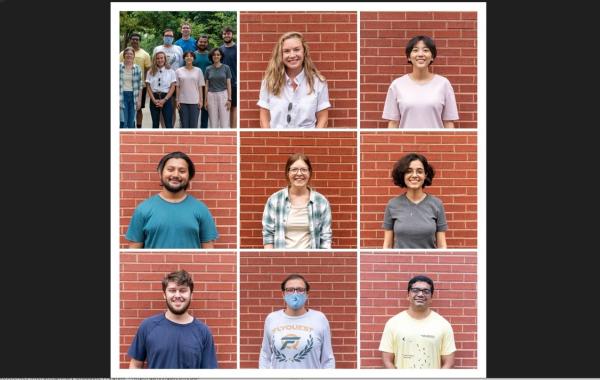 Photo Collage
New Students and Will Ratcliff